Have you managed to create a productive working from home routine?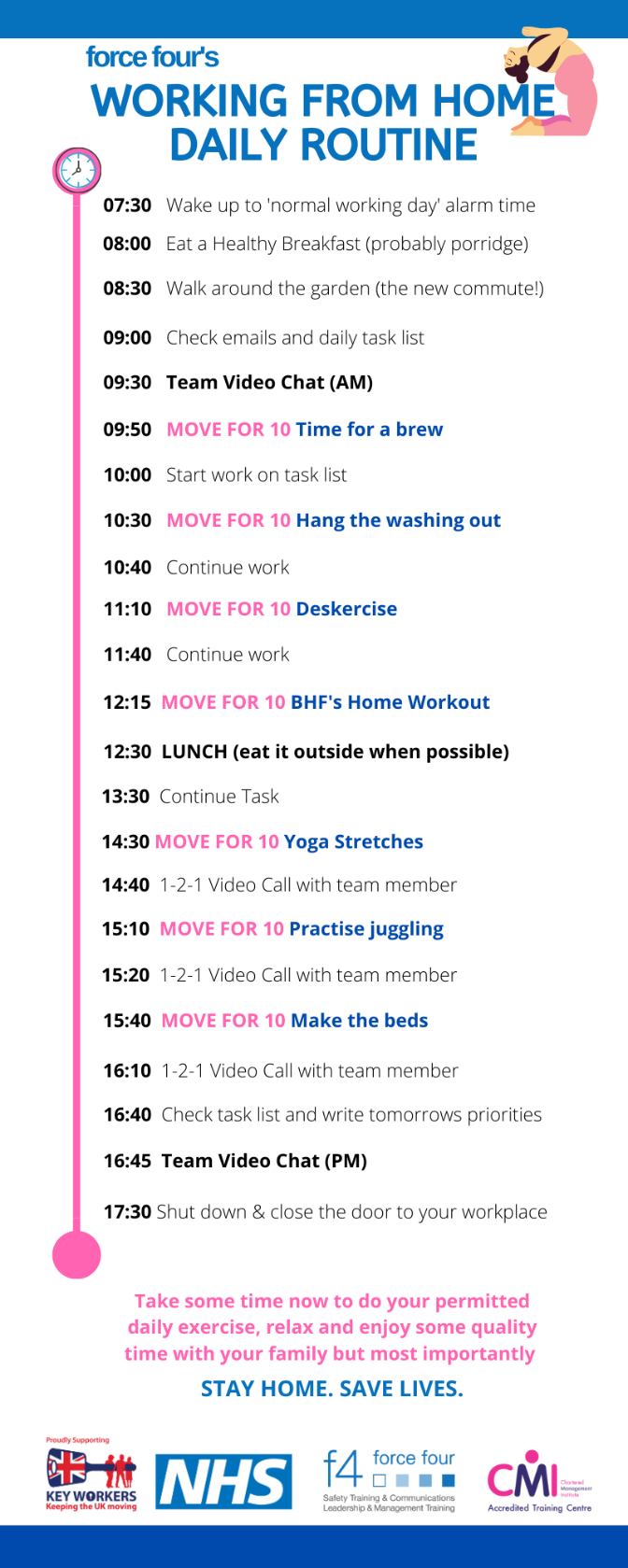 For some, working from home is a dream as it allows for a great work-life balance, but for some of us trying to make it work for the first time in our careers it can prove to be a challenge.
What we know? Ultimately, it's about discovering what works for you – there is no perfect recipe. We know it's tough to keep to a daily routine when working from home, it can feel strange not putting on your work wear each day or not rushing out the house to begin the usual commute.
So, where do you start planning a routine that suits your team?
To help, we want to share with you the daily routine we are following at Force Four while our entire team is working remotely. This includes twice a day video chats, regular screen breaks and ideas for keeping our bodies and minds active.
We use the morning team chat to discuss calendars and job priorities but also, most importantly, we use this time to check in on each other. Ask each other daily how we are feeling/coping with the change to their work environment and let them know that you are hearing and understanding their feelings at this uncertain time. If necessary, carve out 1-2-1 time with individuals to chat through their concerns.
Similarly, just as important is your afternoon team chat. This is your final communication of the day and it's good to talk all together about progress, goals and challenges but ensure to also highlight positive news and celebrate individual and team successes.
TRY A HAPPY HOUR: On Friday's we enjoy F4 Happy Hour, joining our afternoon chat with a glass of something nice. This was inspired by our friends at The Chartered Management Institute (CMI) who have introduced a weekly cocktail hour with their teams.
REMEMBER: Short 10-minute blasts of exercise or movement throughout the day will help with productivity, focus and self-esteem.
Check out these helpful resources to keep your teams moving while working from home:
Great training starts with a great conversation…